It's that time! The giveaway is officially starting!
Here's the deal. Along with the amazing
Spooky Pooky Creations
, we have our epic giveaway getting started right now.
Here's the goods!
This giveaway is for TONS of stuff! And of course, all with a wonderful, wintery yeti theme.
1. mini amigurumi yeti made by me!
2. adult yeti hat made by me!
3. yeti tote bag, key holder and ornament set all with the famous Spooky Pooky yeti!
4. mini yeti mounted head
5. big plush yeti made by Spooky Pooky!
We've been planning this giveaway for quite some time, and we're so glad to finally get it all going! This is an epic set, so I hope everyone signs up!
For each entry, please include your email so we can get ahold of you if you win.
There are 5 ways to enter the giveaway and you can be entered more than once! Here is how:
1. Follow both of our blogs and leave a comment that you are a new follower. If you already are followers, leave a comment suggesting what our next giveaway theme should be.

2. Leave a comment stating your favorite item in both of our shops or something else you would like to see in the stores.

3. Follow both our Facebook pages and let us know you are new. Again, if you are already Facebook followers leave a comment suggesting what our next giveaway theme should be.

4. Buy an item from either of our stores. Please list in the comment what you purchased.

5. Post about our giveaway on your blog, website, or Facebook, and/or leave our button on your page and show us the link of where you posted it with a comment.:)

You may leave all your comments here on this announcement, but remember, in order to be entered you must follow both blogs and Facebook pages, not just one or the other.
Giveaway will end on 2/21/11!
And, here's the button for you!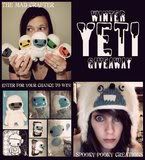 Good luck everyone!